Friday, February 10, 2012 at 11:21AM
One of the design details that I find people struggle with is backsplash. Because of the nature of backsplash, it is on a vertical surface, it captures the eye very prominently. The first thing you have to do is decide if you want anything on the wall at all. We never recommend your countertop going to plain drywall. The reasons for this are mostly sanitary: your drywall is going to get scratched and dirty without some kind of protection on it. At its basic function, this is what backsplash is designed for.
The Choices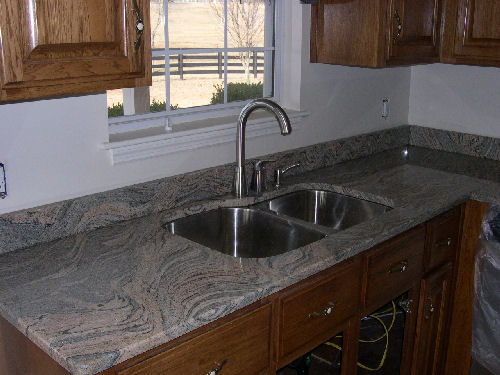 At Washington Marble & Granite, a 4" granite or marble backsplash is what we recommend on a standard kitchen. It provides basic protection, it is pleasing to the eye, and it is proportional to the standard cabinet sizes. It is right amount of stone: not too much, not too little.
A full tile backsplash is also very popular. A properly designed tile splash will really add some flair to your kitchen. If you choose to go this route, make sure you pick a tile that compliments your countertops and your cabinet color. There are many tile patterns to consider, but try to keep it varied. Highlight areas like cooktops and sinks and pick a different pattern, such as this picture. Variety is the spice of life! One thing to consider, however, is grout. Tile backsplashes are very durable, but grout is not. A lighter color will get dirty over time, and the grout between the countertop and the tile will take a lot of abuse and break away after awhile. Which takes us to our next option…
A 2" granite (or marble) backsplash can act as a border to your tile backsplash. It is very proportionate and something we recommend highly here at Washington Marble. It is a more custom look, really brings out your countertop, and acts as better protection for your tile. We also thin the granite too 3/4" thick so it will better transition with the tile! We feel this is our most finished look you can achieve.
One final choice to consider is full-height backsplash. This is a very elegant and beautiful option. It really shows off your granite choice, and can completely change the feel of a kitchen. If you have a stone with lots of veining in it, you can even have the veins run from the countertop up the wall seamlessly! However, it is not for everyone: in some kitchens it is too overbearing. But for the right application, it is a truly beautiful addition to your kitchen.
These are just four of the most popular backsplash options you can choose. But the variety is unlimited! One other option that warrants mention is splash under the window sill. Often, customers find that their windowsill is too low for tile, or too high for full-height. In this case, they often put a slightly taller (5-7") splash underneath it. This can also break up the monotony of a single-height 4" splash and add some variety.
Try planning using all the methods, or mix and match! And don't forget to get creative! This is the most fun about designing your kitchen. You make it YOURS!
tagged
Backsplash
in
Design Ideas